Activities>> Printed-circuit boards workshop
The printed-circuit boards workshop manufactures single-layered and double-layered printed-circuit boards. We have possibilities for production of prototypes as well as of big batch productions of printed-circuit boards.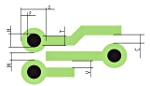 I. Technological capabilities of our manufacture:
1. Minimal distances:
- between two neighbouring tracks /V/
- between a track and a field /C/
- between two fields /M/
- between a track and a screen (testing ground)

2. Minimal width of a track /T/

3. Card thickness

4. Copper foil thickness

5. Minimal holes after metallization.

6. Minimal ring/P/

7. Maximal dimensions of the printed-circuit card


200 ± 25 μm
250 ± 25 μm
200 ± 25 μm
300 ± 25 μm

200 μm

0.5÷2,0 ±0.1mm

18, 35, 70μm

0,5mm

200 μm

300 x 450 mm

II.
Coating types:
Our standard coating is Sn60Pb/Rh (melted tin-lead). In addition we have possibility for lead-free coating – chemical Nickel-gold, but only for orders over 10 billets. We can make electrochemical gold (only for couplings) only under special agreement when submitting the order. The electrochemical copper thickness for the double-layered cards is 25÷30µm.
The melted Sn60Pb thickness is 10÷15µm.
The chemical gold thickness is around 1μm.


III. Protective mask:
Normally we work with green semitransparent mask, but upon client's requirement it can be white, blue or black.


IV. Legend print:
It can be in different colours – white, black, yellow etc. We have possibility to make white and black (it is made for light-coloured mask – for example white).


V. Cutting out:
You can receive the cards singly circular cut off or paneled – ready for machine assembly. The panelization for machine assembly is being made after consultation with the designer, taking into consideration the requirements of the company, which will assemble the cards.


VI. Materials used:
We manufacture with materials of branch leading producers:
TECHNOLAM GmbH (NAN YA) – base materials
KEMMER PRÄZISION – drills and milling cutters
ELGA EUROPE – photographic printing materials
PETERS – protective mask and screen printing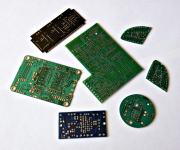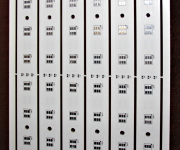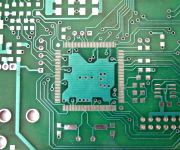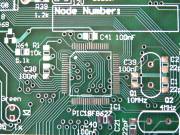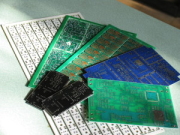 click on the photo
to magnify
Contacts:

Natalia Petrova - chiev workshop
"Printed circuit boards"
phone: + 359 2 / 973 28 14
fax: + 359 2 / 973 23 42
mobile: +359 899 991 296
+359 884 742 551
e-mail: cpr_pp@mail.bg